FAKES & REPRODUCTIONS
While not a major problem with a little education, fakes and reproductions do exist. A visit to your local flea market or antique shop will likely confirm this. Most of the buttons encountered are reproductions that were made in the 1960s and 1970s as giveaways by The American Oil Company & Kleenex. These fakes are easy to spot because most will have some sort of inscription on the edge or curl such as "AO-1972" "Repro-1968" "Reproduction" or the candidates name and date (i.e. "Roosevelt-1944"). If you encounter a button that is scratched on the edge, shows evidence of having been painted over on the edge, or is lithographed for a pre 1920 candidate, beware! Most fakes will also look slightly blurry or off-color. Here's a photo of one of the best-known set of reproductions from a recent online auction and sadly if you have them they have no value other than decorative: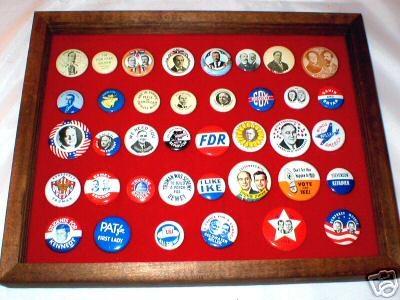 Well-known reproduction set (most of these if original would have a plastic or celluloid covering but
all of these are solid metal. These clearly are marked on the edge of the button "AO-" and a number or year of the campaign
if removed from the display.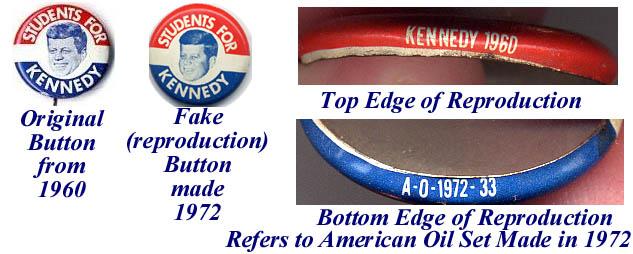 Look on the edge of button to see if reproduction as shown above.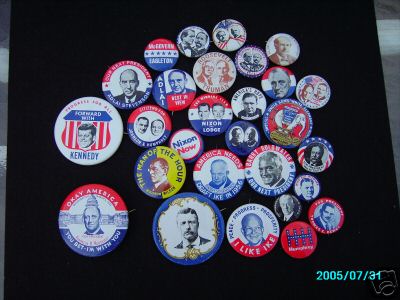 Another well known reproduction set. Note that they are all made of metal and not
the normal celluloid or plastic covered buttons. They may clearly say reproduction on the reverse.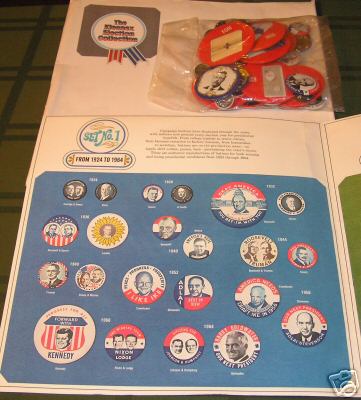 Reproduction Set with original card.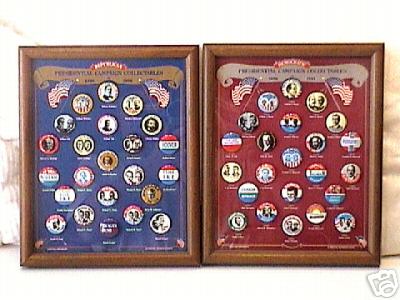 Reproduction Set with original display. These buttons are actually blurry when looked at individually. The original
buttons are bright and clear.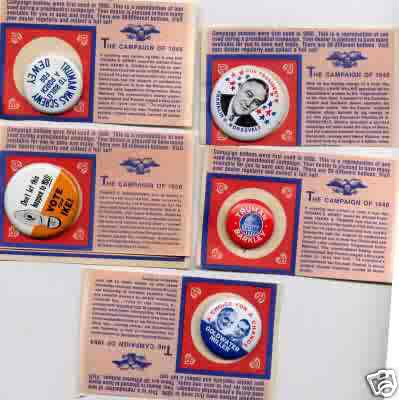 Reproduction Set with original display.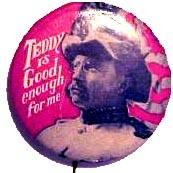 This is a fake Teddy Roosevelt seen often--no real button was ever produced like this.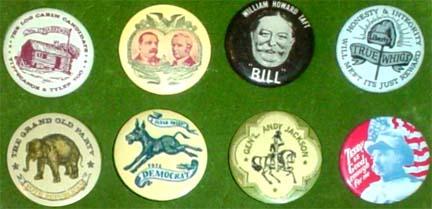 These are all fakes and were never used in a campaign--they didn't even
make buttons like this for Harrison, Cleveland, Whit and Jackson--not
invented until 1896. Avoid these!
Any other questions?
Don't worry--just call or write. We'll be more than happy to answer your questions.
Send copies or questions to:
Ron Wade
2100 Lafayette Drive
Longview, Texas 75601-3437
Phone: 903--236-9615
Fax: 903--236-9499
For Questions: ronwadebuttons@aol.com